Manage your content lifecycle, from creation and holding to regulatory retention periods to disposal, ensuring effective service delivery and public accountability in real-time. Track physical and electronic records while maintaining their integrity and authenticity. Define and perform records classification and disposition of records according to your internal content management policies while meeting industry retention schedules and regulatory compliances, including DoD 5015.02, VERS, ISO 16175 1 & 2, ISO 15489, and NRAA Oman.
Records Management Capabilities of NewgenONE Platform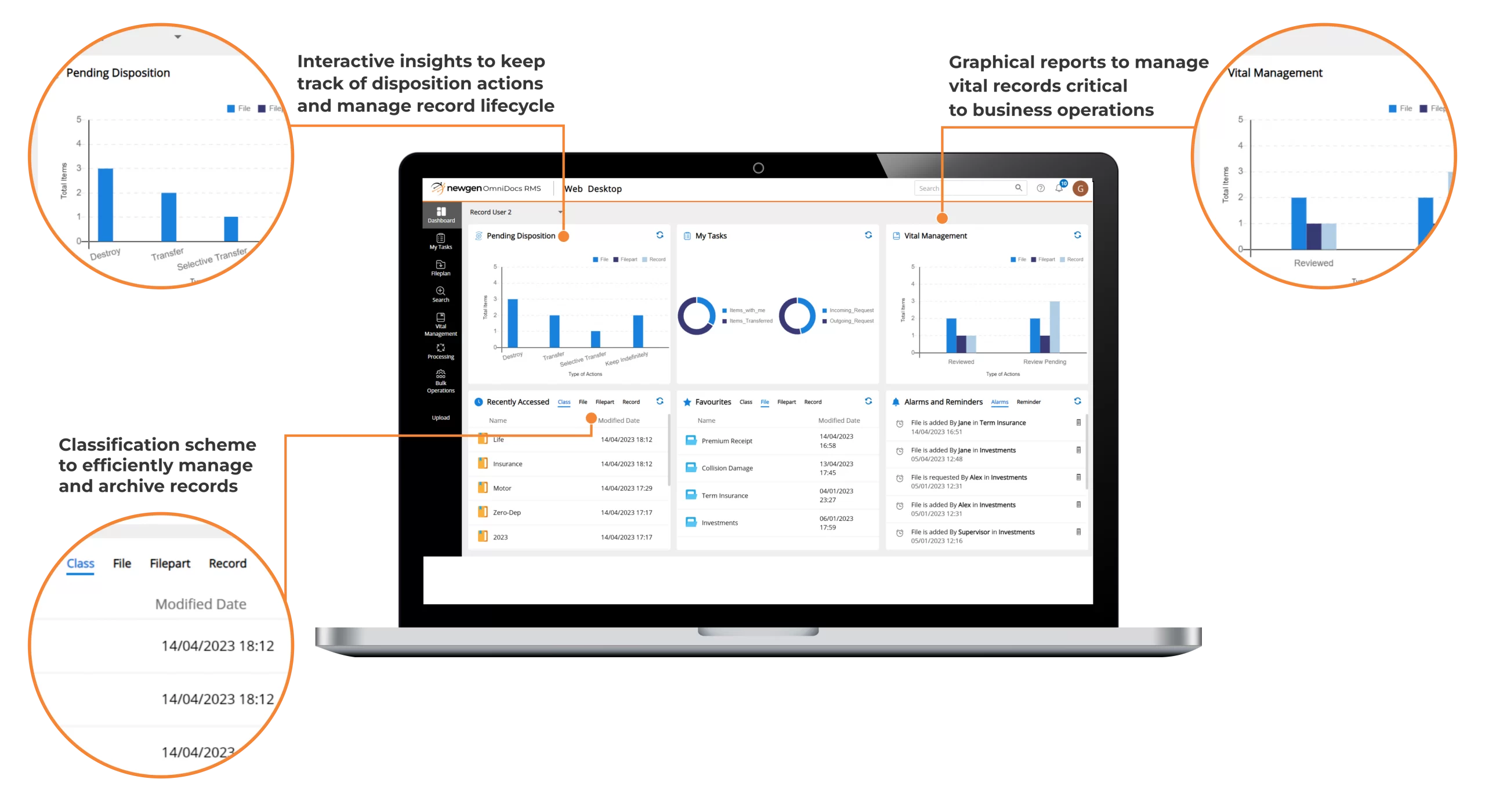 Intuitive Dashboard
Unified view of all relevant information about records and related tasks through a catalogue of predefined widgets
Hyper-personalized interface for different user personas
Secure Archival and Tracking
Policy-based, long-term archival of content, including physical, email, and social records
End-to-end management and tracking of documents and records while maintaining their authenticity and adhering to regulatory retention schedules
Controlled Records Storage and Access
Controlled information storage and access, and legal hold capabilities for preserving information and records retention
Accessibility of rights for file plans, records, requests, and returns, enabling greater functional security
Record Search and Retrieval Capabilities
Rule-based content archival and retrieval
A simple user interface to allow users to add and index documents, search for and manage records and access physical copies from storage systems
Detailed Reporting and Auditing
Tracking and accessing of physical documents and digital records
Detailed report and audit trails for end-to-end visibility
Integration Adaptors
Ready-made connector for MS SharePoint online or on-premises enabling manual and automatic filing of records from to RMS.
Archiving of records and content from MS Office applications such as Outlook, Word, Excel, PowerPoint, etc.
Contextual Content Services Capabilities of NewgenONE Platform