Design simple and complex business processes using the web-based, drag-and-drop process designer. Provide different contextual views of each process to enable collaboration and achieve consensus. Automate end-to-end business processes by orchestrating information flow across front, middle, and back office operations.
Process Modeling Capabilities of NewgenONE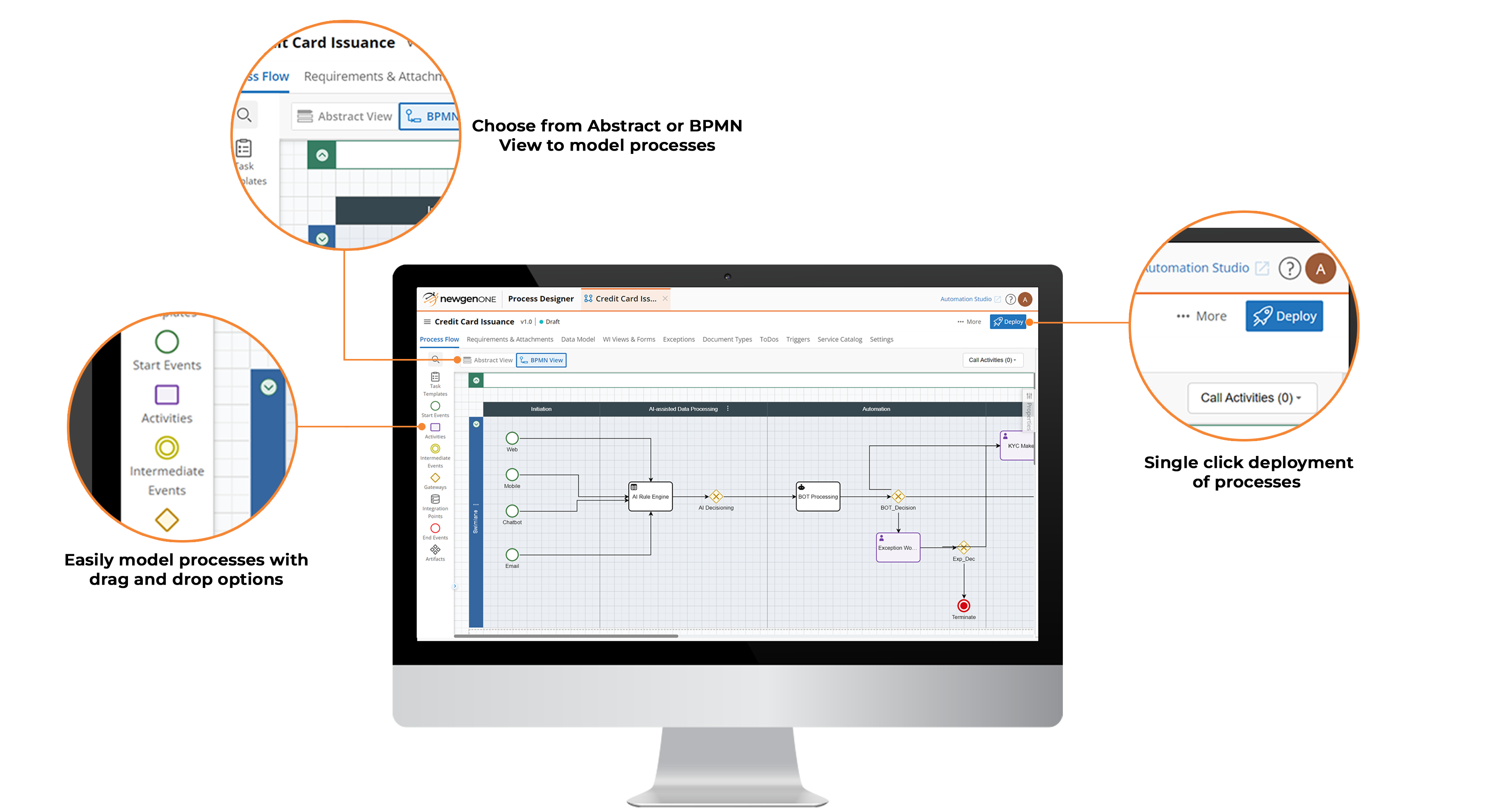 Process Designer
Visually design simple to complex process models with both abstract and BPMN views
Drag and drop process designer to create workflows while orchestrating data models, events, forms, documents, webservices, rules, users, and bots
Run-time exception handling to take charge of unexpected business scenarios
Library of templates to enable rapid process design
Process Validation and Versioning
Process validation for optimized and error-free processes
Version control across multiple processes and views for easier auditing and rollbacks
Process Documentation
Requirements gathering at the project, process, and activity levels to eliminate the need for lengthy documents
Automatic creation of requirement specification document while designing the process
Integration Framework
Native support for REST and SOAP web services
Library of adaptors and standard APIs with ready-to-use integrations for industry applications
APIs for worksteps and process models to enable headless orchestration
Integrated Content Management
Content capturing from multiple devices, including multifunction printers, mobile devices, e-mails, fax, hot folders, scanners, and web
Data extraction from documents using advanced recognition technologies, such as OMR, ICR, MICR, barcode recognition, and others
Integrated document viewer interface to smoothly process document-centric workflows
Intelligent Process Automation Capabilities of NewgenONE Platform
Frequently Asked Questions
Process modeling is a way to streamline workflows by creating an analytical and graphical representations of business processes. It involves data visualization where all process steps are mapped and configured to execute the desired flow.
Here are a few benefits of using process modeling:
End-to-end visibility into processes
Process improvement and agility
Business orchestration and efficiency
Standardization across departments
Process modeling helps enterprises continuously improve processes with a systematic approach and facilitate periodic testing of waters for course adjustment.
Process modeling software helps design simple and complex business processes using a web-based drag-and-drop process modeler, which provides different contextual views of each process to enable collaboration and consensus. It often serves as the layer for orchestrating user interfaces, data models, business rules, routing decisions, etc.