Thanks to my friend in one of the leading FIs, I know a thing or two about the current trends in the industry. Financial institutions (FIs) are rapidly shifting their focus from products to customers. They are striving to leverage digital to its best and are highly inspired to deliver a customer experience that makes their customers stick with them for long.
In my previous blog, I talked about the importance of customer experience, the need to focus on the entire customer journey—especially customer retention and loyalty, and finally, why financial institutions must revamp their customer lifecycle management process. Now, it's time to unravel how financial institutions can transform their customer lifecycle management and turn customers into their biggest fans!
Transforming the Customer Management Lifecycle
As FIs strive to become customer-centric, transforming customer lifecycle management is key. However, getting it done right can get tricky for the lack of an expert helping hand to guide your way towards the glory. This is where a customer onboarding and service management solution can help.
A customer onboarding and service management solution, built on a digital transformation platform, facilitates a financial institution's entire customer lifecycle management needs. It enables FIs to onboard new customers within minutes, plan and track marketing campaigns, capture new leads, perform due diligence checks, and act as a single source of truth for entity data till the offboarding stage.
How Can a Customer Onboarding and Service Management Solution Help?
Here's what to expect from a modern customer onboarding and service management solution:
Effective Lead Generation: Easily track and manage marketing campaigns and generate quality leads by gathering valuable insights
Auto-population of Customer Data: Utilize AI/ML-based data extraction and validation capabilities to auto-populate forms using existing data, eliminating the need for banks to request customer data repeatedly
Risk Prevention: Perform key checks for due diligence, including KYC, AML, OFAC, and more, and create customer risk profiles
Seamless Onboarding: Onboard customers via multiple channels, including in-branch, online, mobile, and others, while ensuring a consistent experience
Integration with Core Banking Systems: Support REST and SOAP API integration with FI's core banking system to seamlessly open accounts, generate documents, and more
Customer-specific Insights: Leverage real-time dashboards to gain insights into customer behavior and profiles for tracking documents, monitoring financial and non-financial covenants, computing financial ratios, and generating alerts
Personalized Offers: Send personalized product offers to applicants at appropriate stages through rule-based workflows
Smooth Offboarding: Ensure well-executed customer offboarding by initiating the separation process and preserving any documents in inactive stages using the solution
Take Control of Your Customer Lifecycle with Newgen
Newgen's Customer Onboarding and Service Management solution enables financial institutions to manage their customer lifecycle and deliver a seamless experience while taking care of cost and compliance. The solution streamlines all stages of the customer lifecycle through its robust capabilities—from early prospecting and customer registration to new product offerings and customer offboarding.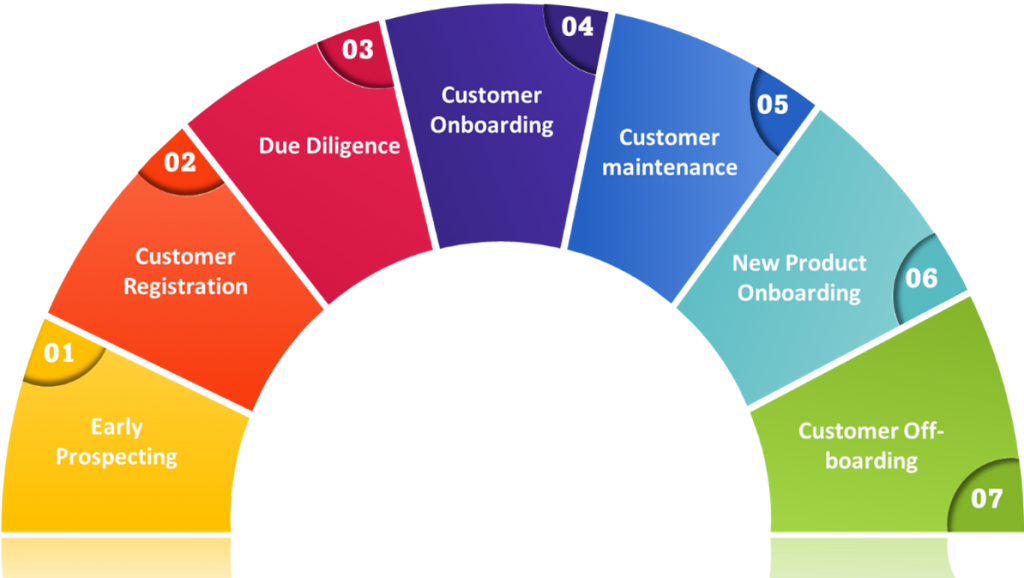 The solution is built on a low code-based digital transformation platform, NewgenONE, which helps eliminate siloed processes, enhance document tracking, ensure faster go-to-market, and reduce cost-to-company.
NewgenONE Digital Transformation Platform is a unified, cloud-based platform that combines low code process automation, contextual content services, communication management, and AI/ML capabilities to simplify your complex, content-driven business needs.