Customers Globally Achieved Cost Savings and Business Benefits, Finds an Independent Research
According to Deloitte, "While 85% of CEOs accelerated digital initiatives during the pandemic,  most can't articulate their overall strategy and progress beyond that they made a tech investment." Realizing the emerging needs and goals of organizations, Newgen provides and continuously upgrades its low code and cloud-based digital transformation platform, NewgenONE, to help organizations across industries accelerate their digital transformation journeys.
The Total Economic Impact™ of Newgen Software, a Forrester Consulting Study
Recently, Newgen commissioned Forrester Consulting to conduct a Total Economic Impact™ (TEI) study and examine the potential return on investment (ROI) enterprises may realize by deploying its solutions in digital transformation. The study provides readers with a framework to evaluate the potential financial impact of Newgen on their organizations. Forrester interviewed three decision-makers with experience using Newgen Software to better understand the benefits, costs, and risks associated with the investment.
The study found that Newgen provided a 371% ROI and a $29M NPV for a composite organization over three years with a payback period of less than six months. The study further described how a composite organization experienced improvements in areas like employee productivity, workflow efficiency, customer experience, and regulatory compliance, leading to significant cost savings and business benefits after deploying Newgen's solutions for digital transformation.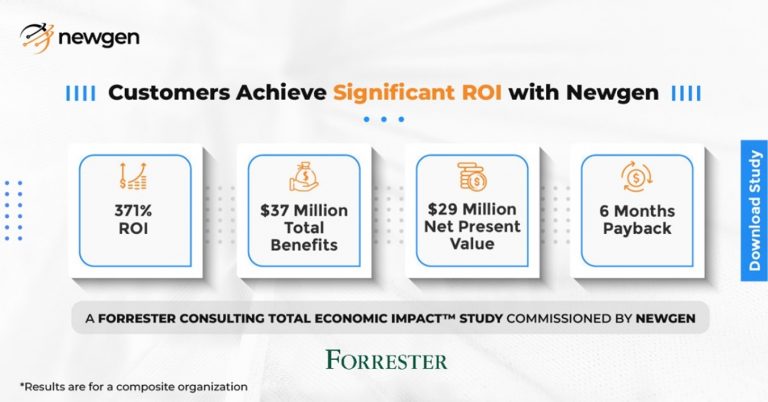 Key Benefits Unlocked with Newgen
Here are some of the key benefits that the composite organization experienced after investing in Newgen's solutions:
Improved Productivity with Automated Enrolment and Data Entry
The interviewed organizations were able to eliminate mundane, manual data entry processes using Newgen solution features such as auto-extraction, auto-validation, and single-screen data entry. This helped organizations reduce errors and accelerate the enrolment process. Digitizing manual data entry allowed interviewed organizations to reskill between 8% and 20% of FTEs per year and enabled 50% in time savings.
Accelerated Delivery with Workflows Digitization in the Call Center
Investing in Newgen's solutions helped enhance the agent's visibility on key processes through Newgen's unified dashboard. The dashboard offers capabilities to centralize repository for archiving all contract documents, streamline the approval and review process, and leverage intelligent automation and AI capabilities to better inform the agent's decision-making. Furthermore, agents were able to reduce the average time spent on handling customer queries like appeals and grievances by 75% after streamlining and automating various processes.
Operational Cost Savings from Decommissioned IT Systems
Newgen's solutions allowed interviewed organizations to simplify their complex business needs and workflows supporting them. The organizations were able to leverage a singular cloud-based platform that integrated multiple processes and disparate IT systems. This helped organizations to decommission legacy IT systems and bridge information silos, unlock simpler processes, and improve productivity. Repurposing the resources dedicated to maintenance, patching, and IT support per decommissioned system helped cut operational costs.
Faster Invoice Processing
Invoices processing can be complex, as one of the interviewed organizations reported several challenges in processing invoices efficiently, which resulted in a lack of visibility into cash flow. The organization found a solution in Newgen's cloud-based digital transformation platform to tackle the issues like dependency on multiple systems, delayed payments, and lost invoices. After investing in Newgen's solutions, the organization was able to handle invoice processing from initiation to archival. Standardizing and automating invoice processing helped the organization accelerate the process by 60%– from an average of 5 to 2 days.
Enhanced Customer and Employee Experience
After deploying Newgen's solutions for digital transformation, the composite organization saw an improvement in its customer and employee experience. The organization could enhance its customer experience by leveraging an integrated customer portal for accessing communication materials and self-service tools in a timely manner. Furthermore, Newgen's intelligent automation capabilities reduced the volume of manual paperwork, freeing up the organization's capacity to upskill and fulfill greater responsibilities, enhancing the employee experience and satisfaction.
Better Adherence to Regulatory Compliance
With Newgen's solutions, the composite organization could comply more fastidiously by virtue of its capacity to prioritize transactions relative to the financial and regulatory risks they pose. Thus, enabling the organization to address those risks in advance and avoid any regulatory fines on account of delayed processing.
Quicker Provider Onboarding and Contracting
By deploying Newgen's solutions, interviewed organizations were able to accelerate their provider onboarding and contracting processes. The organizations could tap on intelligent features such as the auto-generation of letters which enabled them to accelerate turnaround time to onboard providers from weeks to days, elevating the overall experience and level of provider satisfaction.
Apart from these quantified and unquantified benefits, the study also highlights the analysis of each benefit, cost analysis, and financial summary of the entire study based on the composite organization. Download the study to learn how Newgen orchestrated the digital transformation journey of the interviewed organizations.